Autopay is available via townsq.io.
There are two options when enabling autopay. "fixed amount" and "open account balance" (ie. amount due). In the event of dues being raised, you will need to update your autopay if you have selected "fixed amount."
Adding or updating your Autopay settings
Log into townsq, click on the profile drop down menu and select "Accounts."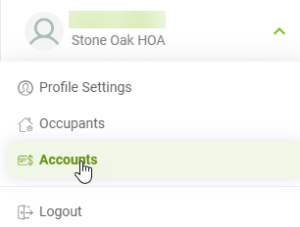 Click "Make a payment"

Click "Manage autopays"


From here you can Add or Delete an entry.  There does not appear to be a way to edit existing entries.


Click the trash can.  If the "add" option does not return, click the X out of that box, then click "Make a payment" & "Manage Autopays" again.  Click add:

Follow the prompts to complete the autopay.  Your previous payment accounts will be available and you should not have to re-enter that.